Pony Rides for Parties and Festivals
ponyspot.com is the website for ...
A Pony To Go
919-353-4591
Ponies at your party...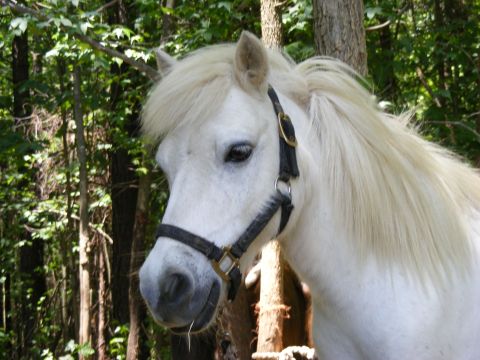 What's a parent to do? Your birthday child has just uttered those delightful but scary words, "I want a pony!" But there's no room in your yard or in your life to keep a real horse. Do you buy a toy pony instead? Or try to give a lecture on how some things are impossible? Or try to cheat, and make some sort of lame promise, like, "Maybe next year."?
You feel like you're looking at a trip to Disappointment City.
Secretly, you probably still want a pony yourself! What can you possibly do?
Ponies to the rescue! They'll come to your party!!!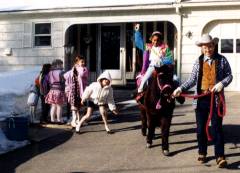 Children absolutely love having ponies at a party. They always seem to believe that the ponies are more important than anything else, even the cake and ice cream!
No cheating needed, no ducking out. Fulfill your Birthday Child's desires. Just call and make arrangements with us, and ponies will appear.

Our plan is for the ponies to arrive at the beginning of the party. Even for the smallest party we bring two ponies because our ponies tell us they like it that way. Eventually everyone has had a ride, or three rides, or even more, and then it's time for the ponies to leave. We pick up any fertilizer they may have dropped on the lawn, and take them home for their dinner.

We also provide ponies for larger events, including church fairs, company picnics, and vacation Bible schools. During the week we can bring the ponies to nursery schools and daycares at a special low price.

Our area is central North Carolina, including Raleigh, Durham, Wake Forest, Knightdale, Chapel Hill, Hillsboro, Burlington, Greensboro and Winston-Salem to the north, and Sanford, Fayetteville and Southern Pines to the south. We regret that we ordinarily cannot service the mountains, the seacoast, or areas near or beyond Charlotte.
Invite some ponies! Call 919-353-4591 right now.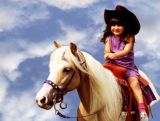 You'll have to call us to find the exact cost for having ponies at your party. As you might imagine, ponies are not inexpensive, but every party is different, and we want to focus on meeting your exact needs. To book your party we require payment in advance.
Do Kids Prefer Ponies or Bounce Castles?
Bouncers or moonwalks, bounce houses, water slides are all attractive, and some kids really like them.
In our experience, however, kids think that the ponies are far more important than bouncers. There's no harm in providing both, though. The ponies are not bothered by them at all.
A Pony To Go sticks to just ponies. We do not have bouncy rides. Instead, we recommend that you find a reputable supplier for any bouncey or mechanical ride, and of course always keep an eye on the kids in the bouncer.
Do Ponies Cost More Than Bounce Castles?
Generally, yes. You can assume that the cost will be slightly greater than renting a large-size moonwalk or bounce house.
What If It Rains?
Light or scattered rain doesn't bother us or the children. We show up rain or shine. Ponies do not melt, and neither do the children.
What About the Pony Poop?
We pick it up and take it away.
We would be pleased if you could put some thought into planning for ponies. See our list of suggestions for a good pony party.